BBC/Warner Home Video
have announced that the first three series of
Torchwood
will be released as one complete boxed set in both Blu-Ray and DVD formats in the United States: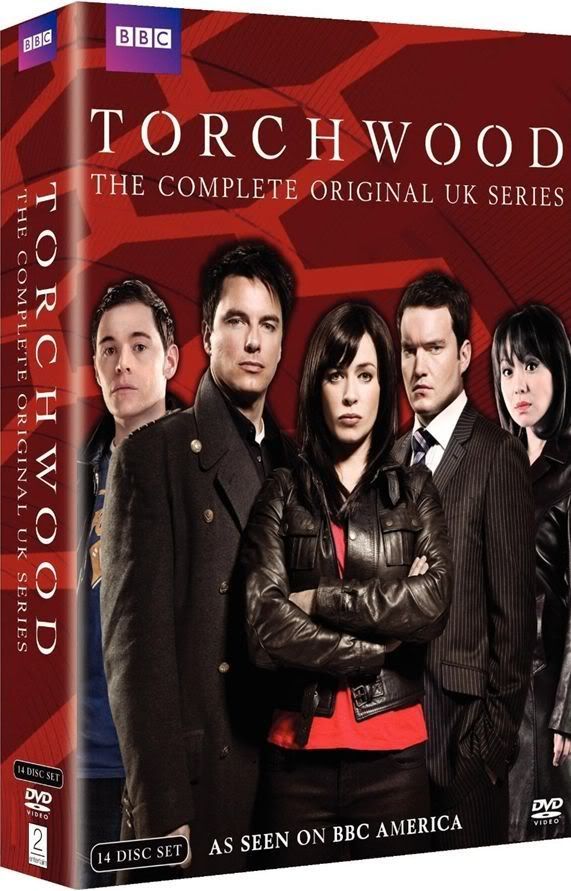 The BBC's Torchwood is such a hit on U.S. television, breaking ratings records for BBC America and acclaimed by critics as "sci-fi with attitude" (Chicago Tribune) and "one of TV's most entertainment of sci-fi romps" (USA Today), that it is being remade for U.S. cable network Starz. Timed to coincide with the premiere of the new series on Starz, BBC will bring together the complete, original UK series in this comprehensive box set.
Separate from the government, outside the police, beyond the United Nations, Torchwood sets its own rules. Led by the enigmatic, ever watchful Captain Jack Harkness (John Barrowman, Doctor Who, Central Park West), the Torchwood team delves into the unknown and fights the impossible. Everyone who works for Torchwood is young. Some say that's because it's a new science. Others say it's because they die young.
The series have previously been available individually in both formats, and though not specified it is believed the new boxed set repackages the original material from the earlier releases.
Torchwood: The Complete Original UK Series
is due out in the United States on
19th July
.
Torchwood: The Collection (Series 1-3)
is still available to purchase in the United Kingdom in both
DVD
and
Bluray
formats.