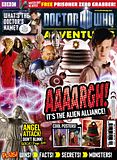 This week's issue of
Doctor Who Adventures
comes with a free Prisoner Zero grabber!
Also in this issue:
That's Not My Name! We look into the Doctor's biggest secret – what he's really called!
The Pandorica Alliance! The scariest bunch of monsters ever assembled actually managed to imprison the Doctor! Find out which aliens were in this fearsome group!
The Timey Wimey travels of Amy Pond!
Doctor, Doctor! If you've got a problem that needs solving, ask the Doctor – there's no one smarter!
Readers' Awards
The magazine also contains exclusive posters, more comic adventures and puzzles.
Issue 210 of Doctor Who Adventures magazine is out in the UK now.