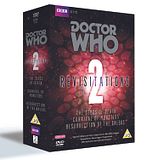 2|Entertain
have released the artwork for the forthcoming DVD release
Revisitations Box Set - Volume 2
.
The box set is the second of a series comprising stories that were released near the start of the DVD range and now re-released with new restoration and added extras.
Featuring three stories,
Seeds of Death
,
Carnival of Monsters
and
Resurrection of the Daleks
and starring
Patrick Troughton
as the Second Doctor,
Jon Pertwee
as the third Doctor and
Peter Davison
as the fifth Doctor, Doctor Who: Revisitations 2 will be available on DVD in the UK from 28th March 2011.
All episodes are newly remastered, utilising advances in technology and technique, and are supported by an expanded collection of bonus features.