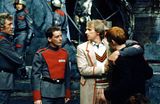 The June Classic DVD release will be
Frontios
, the Fifth Doctor story first shown in 1984.
The show has been confirmed by Warner Home Video for release in North America on
June 14th
, with a UK release expected shortly before. The story includes a commentary with actors
Peter Davison
,
Jeff Rawle
and
John Gillett
, as well as script editor
Eric Saward
and special sounds designer
Dick Mills
.
Also available on June 14th will be the North American release of the first story for the Seventh Doctor,
Time and the Rani
. The story was released in the UK last September.
2|Entertain have confirmed via their
twitter
feed, that the classic Third Doctor story,
The Daemons
, has now been officially commissioned and is in production. It is expected sometime in 2012
For full details of the global DVD release schedule see our
product page
.