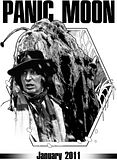 The January 2011 issue of the fanzine
Panic Moon
is now available.
Included in this issue:
Reviews of the Christmas special, the recent series of The Sarah Jane Adventures, Doctor Who Live, Wiped!, the latest fanzines and Big Finish audios;
A look at what the recent changes at the BBC mean for Doctor Who;
Articles giving fresh perspectives of the recently/soon to be released on DVD stories The Mutants, The Ark, Meglos and The Seeds of Doom;
A reappraisal of Daleks in Manhattan/Evolution of the Daleks;
A examination of the TV career of Don Taylor, the man who was first offered the producership of Doctor Who in 1963, and how the series would have differed if he'd accepted;
A guide to writing a Steven Moffat episode and an old fashioned letters page;
The zine is A6 format, black and white, 32 pages and lavishly illustrated with original art. The price and ordering details are the same as for previous issues:
UK: £1.20
Elsewhere in Europe: £2.00
Outside Europe: £2.50
All prices include P&P. Please pay using paypal (www.paypal.co.uk) to
panicmoonfanzine@googlemail.com
. Please use the 'gift' rather than 'goods' option, and add the address for the fanzine to be sent to in the comments section.