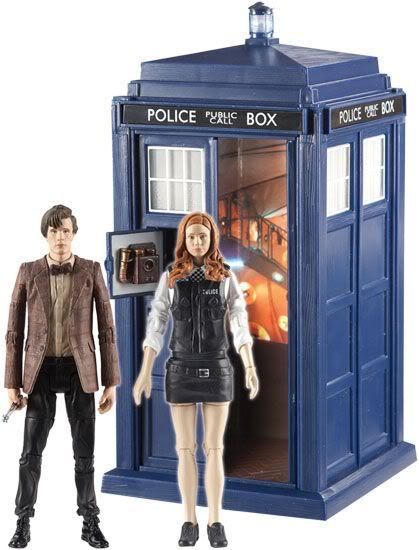 The
Doctor Who News Page
is offering readers a chance to win the
Eleventh Doctor Christmas Adventure Set
which is released next week, in our Christmas Competition.
The set includes two 5-inch action figures: The Eleventh Doctor and Amy Pond with police uniform and also features a non-electronic TARDIS with opening front doors.
Five Gift sets are up for grabs.
To be in with a chance of winning, simply tell us your prediction for the total BBC One audience, to the nearest 10,000 viewers, for the Christmas Day showing of A Christmas Carol.
Just to clarify, we are looking for the
final confirmed audience
as published by
BARB
in January. This figure includes those who record the programme and watch it within one week and it includes those watching on BBC One HD. It does not include those watching on iPlayer.
Please also give your estimate for the final figure for the BBC Three/BBC HD Christmas Day showing of
Doctor Who Confidential
. This figure will be used as a tie breaker in the event of a draw for the prize. In the event of a further draw the winner will be chosen at random.
To help you estimate the figure, ratings for the previous episodes of Doctor Who transmitted on Christmas Day were:
1965 - 5.50pm - The Feast of Steven - 7.90 million
2005 - 7.00pm - The Christmas Invasion - 9.84 million
2006 - 7.00pm - The Runaway Bride - 9.30 million
2007 - 6.50pm - Voyage of the Damned - 13.31 million
2008 - 6.00pm - The Next Doctor - 13.10 million
2009 - 6.00pm - The End of Time Part One - 12.04 million
Entries should be sent to the Doctor Who News Page at
doctorwhocompetitions@gmail.com
- please include your answers, name, address and daytime contact number.
Only one entry is allowed per person.
Entries must be received by 6pm, 25th December 2010 UK Time.
---
In the meantime, there are a number of other Doctor Who related competitions online that you might also wish to enter, listed below:
| Site | Closing Date | Competition |
| --- | --- | --- |
| Toxic Magazine | 15th Dec | Win a Nintendo DS and a copy of Evacuation Earth, with the game for five runners up. Registration required, and restricted to under-18s |
| National Geographic | 15th Dec | Win Evacuation Earth with a DSi. This one is open to under 16s |
| Radio Times | 21st Dec | Win a Nintendo Wii console, and a copy of Return to Earh; simply answer 15 questions on television trivia |
| Love Offers | 22nd Dec | Win a sonic screwdriver from Doctor Who |
| Fortean Times | 22nd Dec | Win one of three sonic-screwdrivers |
| DrWho Online | 31st Dec | Win one of three copies of The Complete Series Five boxed set to win. |
| Eye of Horus | 10th Jan | Win one of ten copies of Meglos. |
| Love Offers | 12th Jan | Win one of five copies of Return to Earth. |
| Webuser | 12th Jan | Win one of five copies of Return to Earth Wii games to win. |
| Whovian Net | n/a | Win one of three copies of the official 2011 Calendar when they reach 1000 Twitter Followers |
| Eye of Horus | 31st Jan | Win one of ten copies of The Mutants. |