A new Doctor Who fanzine was released earlier this month.
Planet of the Ming Mongs
takes a satirical look at Doctor Who fandom.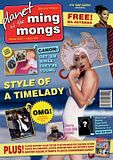 Ming mong (n.) [miŋ mơŋ] - An obsessive Doctor Who fan (usually disparaging)
PLANET OF THE MING MONGS is a new and/or exciting online fanzine, celebrating Doctor Who fandom in all its weird and sometimes disturbing glory. Bravely poking its nose into the live nest of Who fans, PLANET OF THE MING MONGS is a cornucopia of comedy, parody, art and articles virtually guaranteed to bring tears to your eyes.
Special features to look out for within POTMM include an exclusive interview with
Doctor Who Magazine
illustrator
Ben Morris
, comic strips by Jonathan This, Doctor Who facts with Garr and Suthers, "Oi, Spaceman!"'s first convention, and growing up hating Doctor Who with Tommi 'The Tomlette' Grey. Also, Tom Bradford explores some of fandom's more baffling myths surrounding Who mythology, and primary school teacher Rebecca Foster talks to us about the effect Doctor Who has had on the children in her class.
Plus, in a scoop more scandalous than Wikileaks, we feature some juicy and 100% not-made-up (honest) unpublished extracts from
Russell T Davies
and
Ben Cook
's email opus,
The Writer's Tale
.
But perhaps best of all, it's completely free - or your money back.
PLANET OF THE MING MONGS
Edited by Nicholas Blake and designed by Richard Kirby
You can follow updates from the fanzine on
Twitter
and
Facebook
.