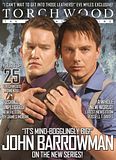 The latest and
final issue
of Torchwood Magazine has been released. The
official Torchwood Magazine Facebook page
posted earlier today: "The final issue of Torchwood Magazine is now on sale. Make sure you get your copy as this is going to be a collector's item!".
In the editorial notes of issue 24 the magazine posted:
"Finally, in less happy news, the next issue of Torchwood magazine will be the last for a while, Everything changes, and with the TV show on its way back as a BBC/Starz co-production, there's a whole new world of merchandising to be worked out, and plenty of new projects in the pipeline. Hopefully, by this time next year, interest in the series will be at an all-time high, and Torchwood magazine will rise again - whether with the same old team or in a whole new guise......"
Issue contents
:
Interview:

John Barrowman

reveals his thoughts about being Captain Jack and returning in

Torchwood: The New World

.
We talk to

Eve Myles

about playing Torchwood's action mum, Gwen Cooper.
For our final issue, we take a look back at some of the most memorable things the stars said about

Children of Earth

.
Archivist Andrew Pixley charts the development and day-by-day production of the episode that saw Owen face up to life, death and Tintin.
In the last ever Beyond the Hub, Kate Lloyd takes a flying trip through the remaining worlds of weirdness we never quite got round to...
A brand new Toshiko Sato adventure by

James Moran

, with art by Adrian Salmon.
Owen Harper waves a ghostly tale in a new adventure by Trevor Baxendale, with art by Ben Willsher.
A time travel adventure in the midst of the Cardiff Blitz, by

Gary Russell

and John Ridgway.
Gwen is forced to go it alone in an epic adventure by Steve Tribe and

James Goss

, with art by Mike Dowling.
The first issue of the magazine was released on 24 January 2008 and was originally printed every four weeks until Issue 14 when they moved to being a bi-monthly production with a larger page count.
[Wikipedia]
Some
page samples
for the issue can be viewed from the BBC's official
Torchwood Facebook page