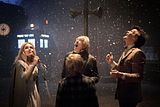 Silva Screen have announced
that a new Doctor Who soundtrack will be released early next year.
The soundtrack, which is due for release in February, will cover music from this year's Christmas Special,
A Christmas Carol
and will include a performance from
Katherine Jenkins
(Abigail Pettigrew), who will be singing
Abigail's Song
The music is composed by
Murray Gold
and performed by the BBC National Orchestra of Wales and Crouch End Festival Chorus. The album will be available both on CD and for download.