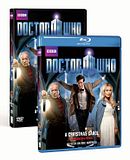 BBC America have confirmed that the 2010 Christmas Special,
A Christmas Carol
, will be released on DVD/Blu-ray in North America on
February 15th
.
It was previously announced that the story will be released in the UK on
January 24th
, 2011.
The Discs will include the hour long version of
Doctor Who at the Proms
.