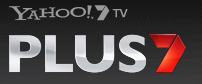 Australian viewers can now see all episodes of
Doctor Who
Series 1 and 2 and all episodes of the first two series of
Torchwood
via Yahoo!7's catchup TV service.
Australian PlayStation 3 owners will find a "Plus7" button on their crossmedia bar (same place as the ABC iView button), and computer users can access the site
here
.
The episodes are available as a result of a deal between BBC Worldwide Australia and Yahoo!7. The ongoing deal will see future quality BBC content air on the service, either in catch-up following transmission on the Seven Network, or as part of PLUS7's dedicated library of TV shows.
Other shows included are The Catherine Tate Show and Little Britain as well as classic comedy programs like Fawlty Towers and The Young Ones.
Kath Hamilton, Director of Audience, Yahoo!7 said
The deal with BBC Worldwide Australia means that we can deliver even more quality content. I'm confident that shows like Doctor Who and comedy favourites like Fawlty Towers and Catherine Tate Show will have our audience engaged. New and old fans alike will now be able to experience the best of the BBC on Yahoo!7,
PLUS7 is free to access via
www.yahoo7.com.au/plus7
and is available across Australia.