Details of the latest issue of
WHOTOPIA
, the free online Canadian fan magazine have been published. To find out when this issue is released you can follow their blog at
WhotopiaMagazine.wordpress.com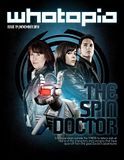 COMING SOON
WHOTOPIA steps outside the TARDIS to take a look at some of the characters and concepts that have spun-off from the good Doctor's adventures
Including...
THE
MICHAEL E. BRIANT
INTERVIEW

Jez Strickley
sits down and interviews the man who directed six classic adventures including
The Sea Devils
and
Robots of Death
.
FAN FILMS: WHOTOPIA INTERVIEWS THE PRODUCERS OF
DOCTOR WHO: VICTIMSIGHT
Bob Furnell
talks with
Eldon Letkeman
and
Robert Westendorp
, the producers of the Canadian Doctor Who fan film "
Victimsight
"
THE NEW-ISH ADVENTURES
A look back at the era of the Virgin New Adventures by
A J Gulyas
.
DREAMLAND
AND BEYOND: DOCTOR WHO GETS ANIMATED
Nancy Gross
takes a look at the specially made animated episodes of Doctor Who
DALEK'S ADVOCATE:
K9 AND COMPANY
Grant Bull
takes a serious in-depth look at this 1981 pilot starring
Elisabeth Sladen
and
John Leeson
QUIT SLAMMING THE 1996 TV MOVIE
Bob Furnell asks fans to quit being so harsh in their assessments of the TV movie
THE DEATH OF FICTIONAL CHARACTERS IN DOCTOR WHO: JACK AND IANTO
Emily Jones
delves into the complex relationship between two of
Torchwood
's most popular characters.
REASONS TO LOVE
THE SARAH JANE ADVENTURES
What makes
the Sarah Jane Adventures
so great? Grant Bull examines why.
TORCHWOOD
OVERVIEW
Joe Ford
takes and in-depth look at all three series of Torchwood
TORCHWOOD
: IMPRESSIONS OF AN OUTSIDER
Bob Furnell discusses why Torchwood has failed to make an impression on him
K9'S NEW ADVENTURES
K9's back in his own series and Bob Furnell examines the very first episode
FICTION: THE MEMORY OF DARKNESS PART III
Original fiction by
Julio Angel Ortiz

THE SARAH JANE ADVENTURES
: SERIES THREE EPISODE REVIEWS
Our panel of experts reviews each episode of series three
TORCHWOOD: CHILDREN OF EARTH
REVIEWS
What did our reviewers think of the most recent season of
Torchwood

THE WATERS OF MARS
REVIEWS
PLUS OUR REGULAR COLUMNS - Screwdrivers, Scaries & Scarves/Target Trawl/Parallel Lines, FEATURES AND MORE
Whotopia was published as a hard copy publication from October 2003 to mid-2009 and after much debate amongst its editorial board. The decision was taken to make Whotopia a free downloadable publication with its seventeenth issue in July 2009. The fanzine is currently edited by Jez Strickley with help from assistant editors Nancy Gross and
Samantha Warner
. The magazine is published on an average of 3 to 4 times per year.