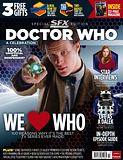 SFX
have published details of their forthcoming special edition magazine which is devoted to Doctor Who.
Doctor Who: A Celebration
is a 132 pages of "all things Doctor Who".
The last time the magazine produced a special for the show was in
October 2008.


This issue contains:
100 THINGS WE LOVE ABOUT WHO
A bumper-sized feature which runs down just a few of the gazillion reasons why we adore this series with a passion bordering on insanity. And if you're thinking this'll be some dreary roll call of the bleedin' obvious, think again…


COSTUME DESIGNS
Series five costume designer

Ray Holman

talks us through some of his work, with drawings for the likes of the Eleventh Doctor and a Silurian warrior, and a smattering of behind-the-scenes photos.
AUTHORS ON WHO
A trio of opinion pieces penned by a triumvirate of SF & fantasy titans.

Discworld

overlord

Sir Terry Pratchett

,

Elric

creator

Michael Moorcock

and hard SF boffin

Stephen Baxter

share their memories of
Who
, and try to put their finger on the series' ineffable magic.
SPECIAL EFFECTS
Visual effects experts

Mat Irvine

and

Mike Tucker

are in a unique position to discuss
Who
's effects, having worked on both the classic series and the new show. Their candid discussion of the challenges they faced is accompanied by lashings of behind-the-scenes images (including some fascinating sketches for the original

Davros

).
THE MISSING EPISODES
Sadly, 108 instalments of the classic series are missing, presumed lost forever, thanks to BBC's junking policy of the '60s and '70s.

Richard Molesworth

, author of new book
Wiped! Doctor Who's Missing Episodes
, tells the full story of how so many episodes came to be destroyed – and how many were later recovered.
And much more.
Free gifts include a fabric Bow Tie and two slogan badges.
SFX Collection: Doctor Who – A Celebration
is on sale from
30 November

.