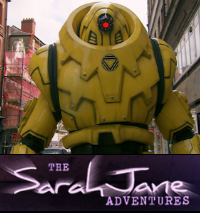 The current series of The Sarah Jane Adventures continues to top ratings with the first part of story four,
The Empty Planet
, topping the chart and becoming the most watched programme ever on the digital Children's channel CBBC.
According to
BARB
, part one of the story had
0.99 million
watching with part two getting
0.81 million
viewers. The story just beat last weeks
Death to the Doctor
, which had 0.96 million viewers.
The Alien Files had 0.49 million watching.
The Empty Planet was repeated later in the week on BBC One and figures for these showings will be available later this month.
Final Ratings - Series Four
-
-CBBC-
-BBC Two-
-BBC One-
-Total-
The Nightmare Man - 1
0.59m
0.28m
0.87m
The Nightmare Man - 2
0.67m
0.38m
1.05m
The Vault of Secrets - 1
0.73m
0.43m
1.16m
The Vault of Secrets - 2
0.61m
0.49m
1.10m
Death of the Doctor - 1
0.92m
0.48m
1.40m
Death of the Doctor - 2
0.96m
0.47m
1.43m
The Empty Planet - 1
0.99m
TBC
TBC
The Empty Planet - 2
0.81m
TBC
TBC