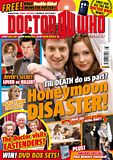 The latest issue of
Doctor Who Magazine
delves into the world of
soaps
, and those whose careers have dipped into both those worlds and that of Doctor Who.
Former Doctor Who producer and now current
Coronation Street
producer
Phil Collinson
discusses his views on which genre is best:
Oh, blimey, I love both of them, although they sort of share the same place in my memories. Both you can sit and watch with the whole family. I remember watching Corrie with my grandmother when I was a little boy. It was the sort of thing everybody had a view on and talked about. In the same way they did with Doctor Who. Although with Corrie, characters like Ena Sharples and Elsie Tanner were almost friends of my grandmother. My mum and she would talk about them as if they were real – what Elsie's been up to and 'what about that husband?' Somehow they were tangible. And I suppose that's been the main difference between the two shows. Doctor Who's a fairytale about a world you'd like to disappear to, and Coronation Street is the world you're in.

In this issue:
Soap Chat: featuring interviews with former companions Louise Jameson (Leela/Eastenders) and Frazer Hines (Jamie/Emmerdale), plus June Brown (The Time Warrior/Eastenders), Helen Worth (Colony in Space/Coronation Street), Rudolph Walker (The War Games/Eastenders), Ian Reddington (The Greatest Show in the Galaxy/Coronation Street), Nina Wadia (The Eleventh Hour/Eastenders), and Cheryl Fergison (The Empty Child/Eastenders)
The Greatest Soap in the Galaxy! Is Doctor Who also the best soap ever? Featuring interviews with Mark Gatiss, Gareth Roberts and Rupert Laight.
Eastenders! A feature on the 1993 Children in Need special, Dimensions in Time.
Plus, the concluding part of the comic strip
The Golden Ones
, the results of the
2010 DWM Awards
, and the usual features such as Steven Moffat's Production Notes, The DWM Review, Beyond the TARDIS, Gallifrey Guardian, and prize competitions.
The issue also comes with a free, double-sided poster.