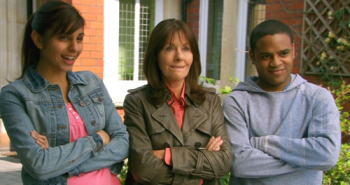 The BBC has released synopsis for
The Vault Of Secrets
, the second story in the new series of
The Sarah Jane Adventures
.
The first part will be shown on CBBC on
Monday 18th October
at
5.15pm
, and is followed by the second of
Sarah Jane's Alien Files
; Part Two will be shown the following day.
The episodes will then be repeated on BBC One on Wednesday and Thursday.
Part One
When an old enemy, Androvax the Veil, returns to Earth, the gang face a dilemma, as the alien-busting adventure series continues. Should they trust him – or does the legendary Vault hold an even greater terror?

A second threat then arises when android guardians threaten to destroy anyone who uncovers their secrets.

As the battle between Sarah Jane, Androvax and the androids reaches its climax, Rani has to save her own mother from being caught in the crossfire. But, as the Vault opens, with the destiny of the entire Veil species at stake, is it too late to save anyone?
Update:
Sarah Jane's Alien Files
will be repeated on CBBC on Sundays at 1:00pm, and Monday at 9:00am and 3:00pm.
A promo is now available on the
BBC Website
.