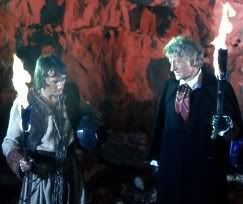 The Third Doctor story
The Mutants
will have a DVD commentary team of seven, according to a tweet from actor
Nicholas Pegg
who is moderating the discussion.
Taking part will be
Katy Manning, who played Jo Grant in the story
Terrance Dicks, who was Script Editor at the time
Bob Baker, who co-wrote the story
Christopher Barry, who directed the story
Garrick Hagon, who played Ky in the story
Jeremy Bear, who designed the story
Brian Hodgson, who designed the special sounds for the story
The story is due for global release in the first quarter of 2011 along with
Meglos
and
The Ark
. Details of the extras were reported
here
.