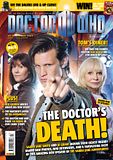 The latest issue of Doctor Who Magazine looks in detail at next weeks story in T
he Sarah Jane Adventures
which not only features
Matt Smith
as The Doctor, but also sees the return of
Katy Manning
to the role of Jo Jones (nee Grant) some 36 years since she left the series.
Death of the Doctor
is written by
Russell T Davies
who talks to the magazine about the story, along with Katy Manning,
Elisabeth Sladen
and Matt Smith, who says on working with his two co-stars.
It's incredible. You realise what a wonderful legacy you are part of, and how much it affects people. Just the very notion of the Doctor and the companion. It makes me feel quite warm that I get to work with two companions who have worked with two really great Doctors.
Also this issue:
The Fourth Doctor himself, Tom Baker is out to lunch with costume designer June Hudson in the streets of Soho, London. DWM tags along and discovers a wealth of stories about Seagulls, Ice Queens and crumbly pastries, not to mention Baker's return as the Doctor in Demon Quest.
They're everyone's favourite race of militaristic clones. Yes, the secrets of those squat, troll-like monstrosities, The Sontarans, are finally revealed, as The Watcher's Guide presents the definitive low-down on one of the Doctor's most enduring foes.
DWM meets Fin Jones, who plays Santiago in Death of the Doctor, to talk monsters, Matt Smith, and the possibility of his character's return to the series.
What have rain gods, Daleks and Karen Gillan's legs got in common? Find out, as Neil Gaiman writes exclusively in DWM about his much-anticipated Doctor Who episode in Production Notes.
It's the show of the century. DWM goes behind the scenes of the brand new touring production, Doctor Who Live, and talks to stars Matt Smith, Nigel Planer and Nicholas Briggs, and writer Gareth Roberts about the new stage show.
Things look grim for the Doctor and Amy as the Axons invade Tokyo. It's action all the way as the new comic strip, The Golden Ones by Jonathan Morris and Martin Geraghty continues.
The Fact of Fiction journeys back to 1983 and 1977, to look at the time-bending, Bliovitch-limiting, UNIT-dating-controversy-causing Fifth Doctor adventure Mawdryn Undead and reveals all you need to know to make sense of the temporal paradoxes presented.
Also Doctor Who's executive producer and head writer Steven Moffat tells DWM all the latest official news; the latest DVDs and CDs are previewed; merchandise reviews; prize-winning competitions; and much more.