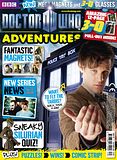 This week's issue of
Doctor Who Adventures
comes with a 2-page pull-out mag all about the new series of
The Sarah Jane Adventures
, in which some of the secrets of the next episode are revealed. There is an exclusive interview with actress Elisabeth Sladen.
What makes a great companion? Have you got what it takes to travel with the Doctor? You can find out in this week's fact file.
Plus: a free 3-D notebook, posters and a puzzles and jokes section.
Issue 188 of Doctor Who Adventures magazine is out on Thursday 14 October.