Mark Gatiss
-penned storyline for the fourth episode of next year's series. Principle photography has now completed for the first episode to be recorded, undertaken over the last sixteen days at three main locations - the bulk of which has been outside of Wales!
Week commencing 6th September saw the crew filming at a private location, Pembroke House in Pontcanna, Cardiff; this was followed a week later with filming in the more public National Trust property Dyrham Park; and finally last weekend moved to the very public Waring House estate in Bristol where many fans and professional photographers were in attendance!
This episode is also the first to enable fans to interact with the director through the social communication tool
Twitter
! Fans have been able to follow production snippets during the course of the shoot, and also view a few photos of the filming process reminiscent of the BBC's
WhoSpy
from the early series. He also introduced us to a couple of the production crew: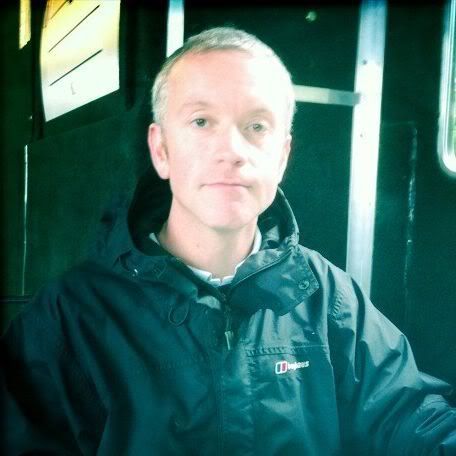 Owen Mcpolin
Director of Photography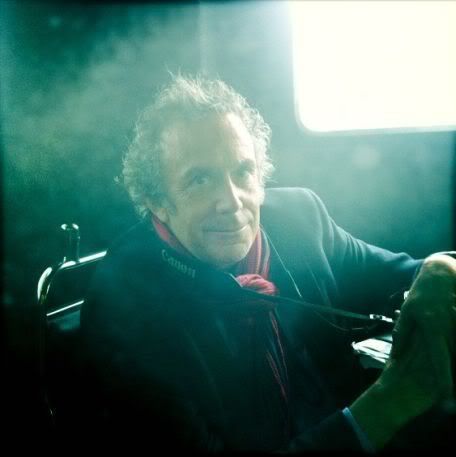 Michael Pickwoad
Designer
The following sections may contain spoilers for the episode, so as always only read them if you wish to know more about the episode.
A rather wet and rainy week had little impact on the crew, who were filming in the old nursing home off Conway Road in Pontcanna, Cardiff. As might be expected, there was little chance for fans to witness filming at the location, though, tidbits were provided by director Richard Clark himself via Twitter:
6th 09:56
First shot in the can.
6th 22:24
Matt's performance a joy. Wonderfully talented actor. Sadly can't reveal anything about guests, except that I'm delighted.
7th 07:56
Takes 13 days (nights) to shoot one ep. Each director shoots 2 eps back to back. The Xmas special gets longer to shoot.
7th 07:58
Every day is different. Much of this block (2 eps) will be shot at night.
8th 08:21
Day 3. Sun shining. Unfortunately we'll be stuck inside a small dark space for the next 12 hrs.
9th 19:12
Just shot a wonderfully funny 2 hander. Great performances from Matt & 'bob'. When Dr Who sparkles it's magic.
10th 07:07
Seriously up against it today. One v complicated scene + still to hoover up shots we've dropped.
10th 18:43
Brilliant days shoot. Great FX set piece. Seriously old school. One hour remaining to really nail it.
As might be expected, fan photos of activity were few and far between, but coffee-making facilities were very much to be seen!
Location Pembroke House:
Production Base at Sophia Gardens:
Filming took place in the manor house at Dyrham Park, a site that is open to the public at certain times of the week! On 16th September, ibanks5 on Gallifrey Base reported:
I have just returned from Dyrham Park in Gloucestershire, where I headed after hearing the rumour of filming there.

I arrived just after lunchtime and as soon as I entered the car park, I could see it had been overrun by F.A.T.T.S. and Panalux lorries, trailers and several silver Mercedes with tinted glass.

There was some movement amongst the vehicles, but nothing significant to speak of. The trailers were obscured by the large lorries and so I could not make out any names on the doors.

On speaking to the National Trust lady at the desk, sher confirmed that they had arrived last Saturday and will be filming for "about a week".

The stately home itself is closed to the public on Wednesdays and Thursdays, but I was able to walk reasonably close and could see more lorries and vans with backs open outside the mansion and people moving about. Also there was a bright light flashing continously inside the house.

Unfortunately, I did not see any specific filming taking place or any stars or guest actors (or dogs!!!) but at least we now know for sure where Rickard Clark's tweets are emanating from........

Fans were able to visit during the course of Friday:
Being a National Trust property the house is open to the public today, and you can actually walk around the rooms they are filming in. Occasionally rooms get closed for a few minutes and there's a take, then the rooms are re-opened again! For example, in a bedroom and the Banqueting Room.

There are a number of pretty women hanging around in white dresses - the clothes are a little similar to the Vampire ones last year, but are more like dolly costumes. One of the NT guides observed that these are the monsters in the show, without their heads on at the moment. During a take you can hear what sounds like crowing sounds coming from inside the rooms. The house itself looks like an immense dolls house, so a lovely setting for the story!

There may be night shooting going on, nobody "famous" in sight, but they are definitely filming during the day today, maybe a second unit. Crew are quite relaxed, with some playing frisbee in the sun outside. Also, an orange vaguely TARDIS-shaped cube is being assembled on the lawn, though whether that is a prop or a film aid not so sure! Various vehicles are clustered up together, maybe to hide some better known cast members!

Once again director Richard Clark offered his view of the production: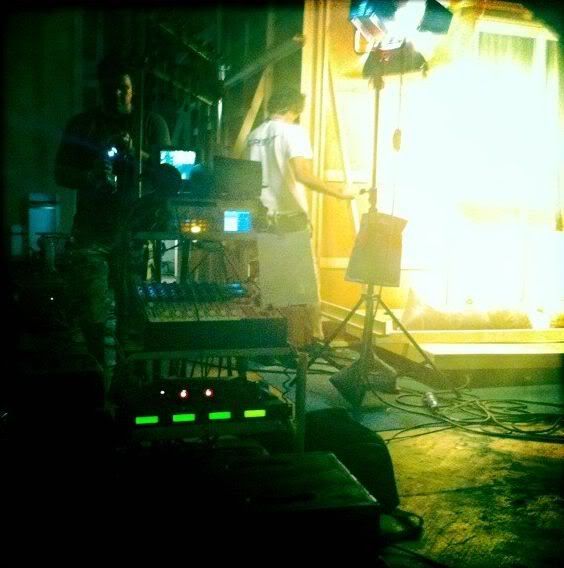 13th 19:00
I'm scared filming this. The kids are gonna freak.
14th 09:03
Big finale today. Complex. Lots to co-ordinate. But it's looking seriously gorgeous.
14th 14:06
Just rehearsed finale. Never laughed so hard as when 'bob' prepared to do battle.
14th 21:11
Another relentless day lifted by a set visit from the writer. Lights refused to play ball and one of the poor performers fainted.
15th 07:42
More of the same today. 'Bob' wielding his weapon as the forces of darkness close in. All hope lost..
15th 20:16
Well that was one hell of a day. Now standing in the set for the next ep. Absolutely brilliant. The art dept have worked miracles.
16th 07:29
A days filming free of stunts, monsters, mayhem and madness. It's barely Dr Who at all. Although there is of course a giant foot.
17th 07:12
Royally knackered. Fiddley shoot today. Loving that the editor emails me cut scenes from the previous day as we shoot. So far so good.
17th 19:43
FX shots. We have to shoot different parts of the action against a green screen to make the CGI work. V time-consuming.
17th 22:07
Watching Dr Who assembly from wk2. I shouldn't tempt fate but... Scary. Funny. Even beautiful on occasion. We may just have something here.
The final main shoot for episode four took place on a housing estate adjacent to the Bristol General Hospital at Redcliff Hill in Bristol. Being a much more public area meant that many fans were able to finally see some filming for this series!
This was also the first of what is expected to be many night shoots in the coming weeks.
For
18th September
whome on Gallifrey Base reported:
As I arrived there were 2 ladies stood by an open door into the block of flats. I assumed they were residents so I asked them if they'd seen much and how long they'd been there. They said 'not much and not long, we'll be going soon' 30 mins later they got into one of the chauffeur cars to be driven back to base to collect stuff to bring back. Oops. Not residents then.

I stood in one spot most of the time, and then after I moved Matt Smith walked past the place where I had been stood on his way to a break. (which was infact inside the door where the other ladies had been stood)

Someone called Jamie wrapped at about 11.00. I didn't see who this was but I heard someone ask the driver to take him/her back to base.

The ladies who weren't residents but working on the show brought 3 dress making dummies out of the room behind the door into a minibus.

Security guy said they're pulling out on Tuesday.

A peaceful Sunday with the cast and crew having a day off before kick-off once more on Monday. Everything was left on site in readiness for the following day's action.
Onto the evening of
Monday 20th September
. Softie from Gallifrey Base:
Just got back - not much news. Filming is all concentrated near some walkways and some bins and rubbish that are apparently props - not actual bins. We also heard that the TARDIS is parked near some garages out of sight, and at one point the small crowd of us, some schoolkids and passers by was moved because we were in shot. Night filming today and tomorrow between 6pm and 3pm.

I have to say, I'm incredibly impressed that someone from the production team went and found out when Matt Smith would be arriving and came back with the news that it wouldn't be for a while yet. This definite information meant we could get the kids home at a reasonable time without having a long, possibly fruitless wait, because even my kids know they're not allowed to stay up past 7pm. Thanks! It's nice you took the time to do this.
Cyber Matt:
A friend and I nipped down to the location for about an hour, between 9.30-10.30, and caught a few snippets:

From that walkway we could see down into the big bins, and apart from normal rubbish there were some green-painted circular podiums (about the size and shape of bass drums), which had presumably been used for some kind of green-screen business. Also a cardboard box which I suspect had been used for carrying props, since it had "George's Flat" written on the side. Plus, loitering between the bins, was an Arthur Darvill, having a smoke with another actor or member of the crew...

The only filming we saw, was four or five takes of a little (very little) old lady trudging along a walkway with some heavy bags. I suspect the bags contained alien fungus pods.

After this, Matt and Karen passed us, into the building. They may have been filming in a stairwell, since from the outside you could see lights set up there. No doubt this is where the T-Mat machine was located.

Whilst Arthur returned to the bins for another smoke, and the old lady was driven away in a silver car, Matt & Karen then went back to the green room for a while - no doubt to insert fangs and contact lenses. A little later they went back up the path to the film unit, running the gauntlet of a couple of paps with long lenses on their cameras, even though they were only six feet away.

Matt was wearing a long dark coat - no doubt in an attempt to hide his new polka-dot waistcoat - and the big news is that his bow-tie was a sort of burgundy colour (I think).
Times Champion:
The first time I have ever attended a shoot, something I have wanted to do for ages and never managed to make the dates fit etc. I have to say i had an amazing time.

I will talk a little about what we saw later in the night (didnt leave until 3am sadly enough!) but first can I say a quick word about the crew in particular. These guys are amazing. So polite and friendly even though it must be a pain for 30/40 people to show up and take pics and generally want to know exactly whats going on and forget this isnt a convention or a premier, its a working TV shoot on a very tight schedule. Regardless of that we had the casts personal security guards chatting to us about the production, cast frame of mind etc, runners having a laugh with us (particularly when she told us she was carrying scripts and we tried to blag a look by telling her we had parts!) getting people autographs and were even asked at one point whether 'THEY WERE LOOKING AFTER US WELL ENOUGH!' I honestly wasnt expecting much more than being looked at in a vaguely hostile way and be told to keep out of shot, but these guys do a fantastic job under difficult circumstances. Please if you are going along tonight and I imagine the crowd will be bigger try to respect that.

Secondly the cast in particular Matt (although Arthur did have a few photos with fans) was lovely. He waved at us when he arrived and said hello a couple of times, and although more or less kept his head down when moving between set and the green room he said goodbye to those of us left at the end and told us to look after ourselves. Oh, and he ruffled a kids hair! The funny thing is that even when chatting with Arthur walking down the road he still came across as the Doctor in his delivery and mannerisms etc.

OK so finally what did I see? A lot of people have already detailed the filming at the top of the hill of the scene with the old lady and the rubbish bags, and I arrived at about 7pm so could only see them film this at a distance. Later on though although we didnt see it according to the radios that the security guards had a scene was filmed in a lift.

We then saw them moving cameras around to the side of the location wehere we knew the TARDIS was, so managed to get around the back. We were basically the other side of a wall from the TARDIS and got some great shots when it was uncovered. (if someone tells me how to post photos on here I would happily oblige) the main cast then arrived and proceeded to rehearse and film the TARDIS arriving scene mere feet from where we were standing! We heard most of the dialogue etc of this scene and even though they knew we were there (the security guard even waved at us!) we were quiet and when asked to move as we were in back of shot it was politely and we did as requested. If others want to post the dialogue if they heard it thats fine, but although I am happy to post what I saw (there arent spoilers that the TARDIS arrives after all!) I personally feel it would be a bit of a betrayal of the wonderful crew to post exact details of the dialogue itself. Suffice to say that Rory seems as suprised at where the TARDIS has landed as some posters on here! Oh, and at one point Matt was walking around 'getting his head together' behind the TARDIS, inches the other side of a wall we were standing next to - very surreal!

When they finished filming that shot we went back round to the entrance of the building and then saw them film the follow on scene of the TARDIS crew walking up towards the flats where they earlier filmed the 'bin bag' scene. They had a couple of teenagers riding bikes in the background.
Final night of shooting,
21st September
, and Twitter was practically a running commentary of how the filming unfurled over the course of the evening!
18:39 Currently shooting around by the garages where the Tardis landed last night. Doctor, Amy and Rory.
18:54 Setting up a shot of Amy looking up. Into the sky? Up at a balcony? A tall stand in position for eye line.
18:59 Ooh i wonder what that big white sheet is for! They've laid something big and white out on the ground where the Tardis is/was.
19:02 They measured the distance from camera to the pole on stand. Could be for CG reference. Amy shot from behind. Stand now removed.
19:06 Out comes the silver ball on a stick. Definitely something CG. Diffuser now held in front of lighting.
19:19 Amy looked up at CG thing, Rory joined her but didn't look up. Brief dialogue, then they walked away.
19:23 That's that scene done for Karen. She heads off inside carrying her pink dressing gown. 2 Paps in attendance, 1 new.
19:32 Over-the-shoulder shot of Doctor sat on the grass inspecting what looks like a Polaroid photograph. Then Matt is whisked away to base.
19:36 Confidential crew are up on the top walkway filming the big light being lifted up into position.
19:41 Man with dog with crew. With them or resident? Lighting whatsit being set up next to the Premier Shop.
19:44 Security bloke tells children: "Doctor Who has left and won't be back." His name isn't Doctor Who!!!
19:49 Karen's back - pink dressing gown
19:53 Karen is leaning over the balcony
20:02 Karen has took her dressing gown off. Alas, fully clothed.
20:02 One lucky little fellow had a chat with Matt earlier. He also got the obligatory hair ruffle!
20:19 They've just done a scene inside upstairs involving blonde twin girls, dressed identically. Proper scary!
20:21 Call out on the radios: "Has anyone seen Karen?"
20:24 They're now blacking out the emergency lighting on the fifth floor outside the lifts.
20:26 Wow, they're setting up next to me. Pile of rubbish bags. Stunt men falling into it.
20:36 Woman told boy Karen will come out to see the crowd soon! Old lady and Arthur just arrived - Arthur signed something for a boy.
20:44 Confidential just filmed the stunt arrangers planning a stunt by the bins. There's a reason those rubbish sacks look so soft.
20:46 The big light has been brought down lower over the bins area.
20:48 Lighting rig being lowered over the bin set up. Creepy twins are creepy! They've just come back.
20:59 Shooting Karen up on fifth floor balcony. Amy knocks on flat door and is let inside. Dialogue spoiler coming up!
21:01 Karen knocks on door. It opens, she goes "hiiii!", Brief exchange with whoever opened the door, then it slams shut.
21:02 Amy dialogue spoiler: "Hi." :-p
21:04 She will knock four times!
21:04 Sinister twins have gone now
21:06 That's a wrap on Sophie and the twins.
21:10 There is a dog involved in the filming. Now 100% confirmed. They just sent for it.
21:13 Gorgeous woman about 30. She has a German-ish accent. Crew. I think it's Sanne. Sanne's a woman yeah?
21:15 Stunt lady has become old lady in dress and wig. Looks like stunt is coming up next.
21:19 About to film the old lady fall onto the rubbish I think.
21:20 Dog is here. Little fat thing. Pissed up wall then got lead in.
21:22 Amy screams. Arthur yells. "Oh my god!"
21:27 Dog handler and canine artiste have arrived on set. ;-)
21:29 A couple of takes of two people screaming their lungs out in terror. Much grinning and chuckling off set.
21:32 It's the same double for the stunt as Mrs Poggit last year!
21:43 Lunch.
22:56 Looks like they're getting closer to doing the stunt. Talk of "B Camera" getting ready. First take after lunch just begun.
23:00 Stunt arranger and stunt lady just talked Confidential through the set up by the bins. Big reflector being put up.
23:04 Mrs Poggit stunt woman getting ready for a take.
23:07 SFXmagazine: Jawdropping Who Exclusive one: one scene features a door slamming. And someone who may be Amy saying "Hello".
23:07 SFXmagazine: Jawdropping Who Exclusive two: there's also some amusingly protracted screaming. Possibly in a lift. Possibly plummeting. We're not sure.
23:08 SFXmagazine: Jawdropping Who Exclusive three: watching a female stunt double practising diving into a giant pile of binbags is surprisingly amusing.
23:08 SFXmagazine: That bit was genuinely quite good, actually.
23:16 Further rearrangement of the soft stunt bin bags and the steps beneath them. They're aiming for a steeper trajectory.
23:25 Shot with canine artiste being done on fourth floor walkway. Abusive resident breaks the silence. He gets bored quickly and moves on.
23:32 Tardis is still here
23:34 Karen is back
23:37 Karen sits and has her make-up touched up, while (real) old lady runs through her lines under her breath nearby.
00:01 Lots of crew gather around the set to see the show. Someone is about to take a nasty tumble!
00:13 Big light number two is active! There is much big light.
00:13 Old lady dialogue; "Is that you George? You little devil. I'll tell your mum and dad! Show your face!"
00:20 All the crew asked to hide around the corner to keep out of the actress's eye line. She's looking for someone.
01:00 Old lady scene continues, shooting down towards the road. Cast and crew huddle round monitors hidden round the corner.
01:02 Confidential shooting the scene from balcony above.

A more succinct report from Cyber Matt on Gallifrey Base:
Just back from the location - here are a few snippets:

9.30pm - Whilst the main crew was filming elsewhere, a stunt arranger and friend set up bin-bags in the rubbish area, and a young stunt-woman dressed as the old lady practised diving into the heap of bags, with her legs waving in the air(!)

10-11pm - The crew broke for "lunch", so we went off for a drink, since little seemed to be happening...

11pm - When we returned they were building up the rubbish pile, practising the stunt, setting up lights etc. The real Old Lady and stunt double were being briefed by the stunt arranger...

Whilst all the onlookers were watching this, I noticed from the road that the crew were filming on a 2nd-floor balcony: Arthur/Rory knocks on a door, and has an agitated conversation with the person who answers, then the door is slammed in his face. They filmed this a few times from the walkway, then took the camera into the flat to film reverse angles looking out at Rory.

Next, some filming out of sight indoors, which must have involved Arthur & Karen, since they both came out into the rubbish area afterwards...

Midnight - The Old Lady was briefed by (presumably) the Director, and rehearsed a scene where she approaches the rubbish bags, poking them with (I think) a broom, and saying (paraphrasing): "Is that you, George? Scaring an old lady to death... Show your face, you little devil... I'll tell your mum and dad..." (Possibly not in that order...) The Director then briefed the crew on the order of shots, etc...

Anyway, they rehearsed that a few times, and started setting up the camera and lights, so we left at about 12.30am, since it was probably going to take a while...

No doubt this scene leads up to the old-lady-into-rubbish-pile stunt...

Anyway, it looks like it might be quite a good episode, so let's hope my presence didn't jinx it - the only other time I've seen any filming on Who was for The Lazarus Experiment!

And finally, the director's "cut":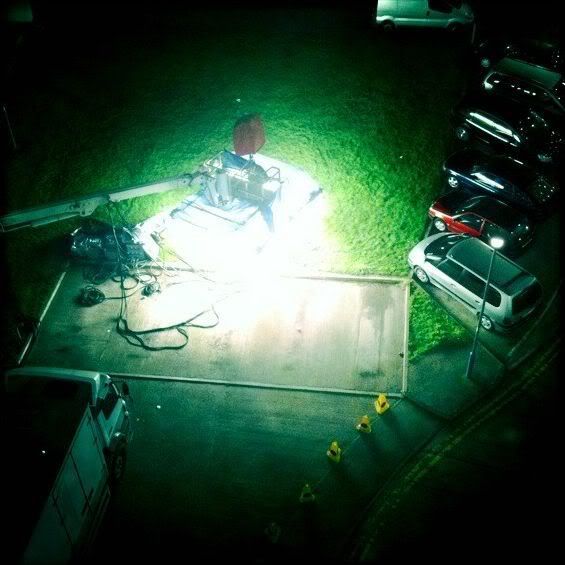 18th 14:41
First night shoot. One of many. Final location. 3 more days and ep4 is done. Well, shot at least.
19th 09:42
Finally. A day off. Still only 5hrs sleep. Why can't I sleep late? Frustrating. Time to read and get me head round Neil Gaiman's ep.
19th 14:33
Just finished re-reading Neil's ep. The simple truth of the matter is that Who fans are gonna to flip.
19th 19:45
Editor has dropped off a rough assembly of ep 4. Still 2 nights shooting remaining but let's see how it's looking so far...
20th 13:51
Watched ep4 assembly. Delighted. Performances a joy. And those things... SCARY! Two more nights and we'll have nailed this puppy.
20th 19:15
Well it's no secret where we're filming. We're surrounded. What's more the paparazzi are on to us.
21st 12:32
I need more sleep. Last night of filming Ep4. Tomorrow we tackle Neil's Magnus Opus.
22nd 02:55
Dr Who series 6, ep 4 is officially in the can. (apart from some green goo shots tomorrow - I kid you not) One down, one to go.
Production will now begin on episode three, by
Neil Gaiman
- also to be directed by Richard Clark.
September has seen the Doctor Who production crew busy filming the