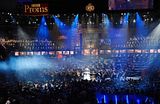 The extended edition of the
Doctor Who Prom
was broadcast on BBC Three yesterday where it was watched by an average of
0.28 million
viewers, according to unofficial overnight figures. The programme had a 1.4% share of the audience. The audience rose steadily throughout the 90 minute programme with the final half hour wining the timeslot on multi-channel television.
Monday's 60 minute version of the programme had an Appreciation Index of
89
.
The Prom is now available to viewers in the UK on the
BBC iPlayer
and a High Definition version of the 60 minute programme will be broadcast on
BBC HD
today at
5.25pm
.
The BBC have also added several clips from the Prom onto their
YouTube site
. Clips may not be available outside the UK.
Doctor Who Theme Tune
David Tennant regenerates into Matt Smith
Symphony of The Daleks
Monsters and Female Vampires