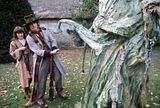 The
BBFC
has cleared extras for the October release of the 1976 fourth Doctor story
The Seeds of Doom
, which, as
previously reported
, will be released in the UK on
25th October 2010
.
Pod Shock (The making of) 37'14"
Playing in the Green Cathedral (Featurette) 10'02"
So what do you do exactly? (Featurette) 15'35"
Stripped for Action - The Fourth Doctor in comic form 20'17"

Easter Egg 1'13"
Easter Egg 0'08"
Photo Gallery 4'45"
TV Continuity 1'23"
Some of the
previously announced
extras for the Revisitation Box have also been cleared. The documentaries accompanying the re-release of the 1996 TV Movie have a duration of 53'52" for
The Seven year Hitch
and 17'09 for
The Doctor's Strange Love
.