More details are available in this months DWM on the extras to be included in the forthcoming
Revisitations Box
set, due for release in the UK in October.
The set will consist of three previously released stories taken from remastered and restored prints and with updated extras.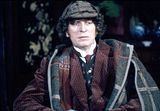 The Talons of Weng-Chiang
3 Discs
The Last Hurrah a new documentary where producer Philip Hinchliffe visits Tom Baker at his home to discuss their final story together
Moving On where Hinchliffe talks about what he envisaged for the series had he stayed as producer
The Foe from the Future, a look at the original story which eventually became The Talons of Weng Chiang
Now and Then, a tour of the locations used in the story
Look East with Tom Baker interviewed.
Whose Doctor Who, presented by Melvyn Bragg - As included on the original release
The Caves of Androzani
2 Discs
Chain Reaction, a look back at the making of the story
Directing Who: Then and Now - Graeme Harper talks about the changes in TV Production since he made this story
Archive footage from The Russell Harty Show featuring an interview with Peter Davison and Colin Baker.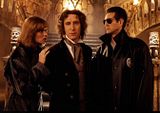 The Television Movie
2 Discs
An new commentary featuring Sylvester McCoy and Paul McGann
The Seven Year Hitch, looking at the seven year quest to get this story made
The Wilderness Years, looking at how the show was kept alive during the hiatus between the end of Series 26 and the TV Movie
Who Peter 1989-2009, the final part of the documentary looking at the special link between the two programmes Doctor Who and Blue Peter
Stripped for Action, the eighth Doctor in Comic Strip
Tomorrows Times, how the short reign of the Eighth Doctor was reported by the press at the time.