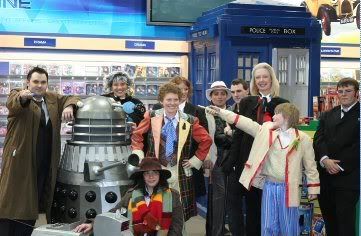 The ABC Shop Rosny Park, Tasmania, Australia, will be holding its 3rd annual
Doctor Who night
on Saturday
26th June 2010
, between 7 and 9pm. The event will take place both in and outside the ABC Shop in Eastlands Shopping Centre and in attendance will be a full- size replica of the TARDIS, a Dalek and K-9 loaned by Wayne Ottaway of Dalek Downunder.
The last Doctor Who night, held in 2008, attracted over 1000 people. During the course of events, there will be spot prizes, giveaways, a quiz, a theatrical piece tentatively entitled "The End of Time Crash" and the chance to purchase Doctor Who related products, some of which have not yet been released in Australia.
Other retailers such as Gloria Jeans coffees, Wendy's Ice Cream, Donut King, Little India, What's New and Tassie Cameras will also offer special deals for the evening.
The event is free and all are welcome.