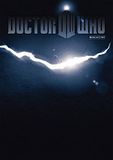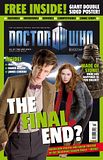 The latest edition of Doctor Who Magazine prepares for
The Big Bang
on Saturday as the magazine goes on set, braves the darkness of the Underhenge and talks to the people behind the finale of Doctor Who, including stars
Matt Smith
, and
Karen Gillan
, head writer
Steven Moffat
, director
Toby Hayes
and monster maker
Neill Gorton
.
Also in DWM 423
It's Payback Time
We know what Steven Moffat thinks of the stars of Doctor Who – but what do they think of him? Executive Producer Piers Wenger asks Matt Smith and Karen Gillan what they really make of "the Mofferator" in a very different production notes.
Neighbours from Hell
It was the unlikeliest flat share story ever, but The Lodger could have been even stranger? The magazine catches up with writer Gareth Roberts, who tells how he came up with his latest script, and what ideas didn't make it onto TV. Plus, the stars of the show, Matt Smith and James Corden.
It's only Natural
It's all change for the TARDIS team as the Doctor and Amy uncover the dark secret deep within an alien jungle – but at what price? And will the Time Lord and Pond ever be the same again? Find out in Supernature Part 3, written by Jonathan Morris with art by Mike Collins.
Living in the Plastic Age
They could be plastic, anything plastic – or they could look just like you. Join the Watcher as he reveals everything you need to know about the sinister Autons in the latest of his in-depth guides.
Turn to Stone
Dalek operator Barnaby Edwards talks about his years of experience in operating the various designs of the universe's most malevolent monsters.
Every Vote Counts
Let everyone know what you thought of the latest season, as the magazine gives you the opportunity to rate the episodes in its annual season poll.
Reasons to be Cheerful
The Happiness Patrol is put under the spotlight in The Fact of Fiction.
PLUS! All the latest official news, previews and reviews of all the latest DVDs and audio releases, prize-winning competitions for the cream of Doctor Who merchandise.
This issue comes with a giant-sized, double-sided poster, depicting the Daleks on one side, and the Doctor and Amy on the other.