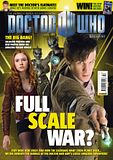 In the latest issue of DWM the remaining episodes of Matt Smith's premier series are previewed. Readers can meet Van Gogh in
Vincent and the Doctor
; go house hunting as we speak to writer Gareth Roberts about
The Lodger
, which guest stars James Corden; then visit Stonehenge in Roman times as head writer Steven Moffat reveals what's coming up in the season's finale –
The Pandorica Opens
and
The Big Bang
…
Talking about his forthcoming episode
Vincent and the Doctor
, writer Richard Curtis says:
It was a joy working on something my kids love. During the summer I was writing it, we had lots of prints of Van Gogh paintings up round the house – and a board with index cards going through the plot, scene by scene – and both of my big kids came up with ideas…

Also in the magazine:
Steven Moffat reveals what happened when he joined Matt Smith and Karen Gillan to promote the new series in the Big Apple – and what 'whisking', giraffes and babies have to do with the world of Doctor Who – in the latest Production Notes!
DWM catches up with Chris Chibnall, writer of the latest thrilling adventure, The Hungry Earth/Cold Blood, and finds out how and why the Silurians were revived for the twenty-first century. Plus, Meera Syal, who stars as Nasreen Chaudry, tells us about her experience of working on the show – and how her expectations were more than met…
The Doctor and Amy realise that a change isn't always as good as a rest in Part Two of the latest full-colour comic strip, Supernature, by Jonathan Morris with art by Mike Collins. As Amy continues to mutate, the Doctor goes exploring, in search of a cure…
DWM visits Croatia and goes behind the scenes of The Vampires of Venice, with exclusive interviews with Matt Smith, Karen Gillan, Arthur Darvill (Rory) and Helen McCrory (Rosanna), executive producer Beth Willis and producer Tracie Simpson!
Toby Jones, the Dream Lord himself, talks candidly to DWM about his bizarre role in Amy's Choice – and on whether his character could return to haunt the Doctor in the future…
It's all aboard, as DWM joins the Wengerbus! Follow Matt Smith and Karen Gillan as Matt revisits his old school in Northampton as part of the Doctor Who tour, and discover what life is really like on the road…
Enter a world of Cave-Monsters, Sea Devils and savage dinosaurs as the Watcher tells you everything you need to know (and discovers quite a few surprises!) about homo reptilia – the Silurians!
Deborah Watling, who played companion Victoria Waterfield in the 1960s, tells us what she thinks about the current series, the pressures of writing her autobiography and meeting her fans in Who on Earth is…
Out now!