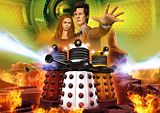 The BBC has admitted the surprise early release of the downloadable game,
City of the Daleks
, was part of the testing procedure for the game.
Anwen Aspden, executive producer at BBC Wales, told the gaming website
MCV
.
We're testing the system with an almost-final version of City of the Daleks ahead of the official release date, The reaction so far has been overwhelming, but we're still investigating whether we should tweak certain elements up to release on 5th June. So whilst those who've downloaded and enjoyed it in its current iteration have the advantage of playing through it early, there may be some minor tweaks coming.

We're running a launch trailer for the game immediately after Saturday's episode of Doctor Who, that's when we expect the servers to come under the most strain – we'll let everyone know if the finished article is available ahead of then.