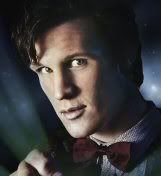 The Daily Telegraph
reports a renewed surge in popularity of bow ties thanks to Doctor Who. A spokesman for Topman says sales have shot up by 94% since The Eleventh Hour was aired. The Guild of Tiemakers chairman, John Miln, said he was pleased the unusual trend had been kicked off by the show.
Critic
Charlie Brooker
has continued his criticism of 'Nortongate', with a rant against the schedulers for the intrusion of the cartoon Graham Norton over last week's cliffhanger. He talked about the incident on his Channel 4 programme
You Have Been Watching
, calling it a travesty. The programme can be seen on
4oD
.
Journalist Penny Andrews has written a long
blog
on the launch of Doctor Who - The Adventure Games in Sheffield last week, while
TalkTalk
spends five minutes in the company of Alex Kingston and
TV.com
asks what makes Doctor Who special.