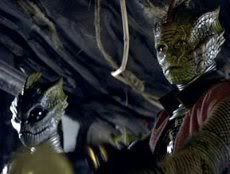 Episode Eight of the new series of Doctor Who will be broadcast at
6.15pm
on Saturday 22nd May.
The programme has a new lead in this week, a repeat of the Alan Sugar
Junior Apprentice
series. It is followed once more by
Over The Rainbow
. On ITV viewers can see
The Whole 19 Yards
while BBC Two has
Golf: PGA Championship
followed by Coast. Channel 4 has
Come Dine with Me
followed by
Channel 4 News
, with Five showing the film
How the West Was Won
, a 1962 Western with James Stewart and John Wayne.
Meanwhile the Press details for the second part of this two part story have been released by the
BBC Press Office
.
It is the most important day in the history of Earth: the dawn of a new age of harmony or the start of its final war.

The Doctor must face his most difficult challenge yet. It is a battle in which he cannot take sides and a day when nobody must die...
Full series information can be found
here
.