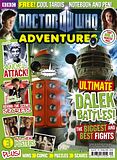 This week's Doctor Who Adventures has all the best bits from last week's episode, Amy's Choice: gruesome grannies spewing alien eyes, Rory with a ponytail, an ice-cold star that threatened to freeze the TARDIS and a mysterious Dream Lord!
You can also check out the ultimate Dalek battles, fast facts on the Sontarans, exclusive posters and a brand-new comic adventure.
Plus an TARDIS notebook and pen.