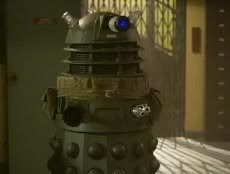 Schedules for the
17th April
have been changed slightly with Episode Three of the new series,
Victory of the Daleks
, now being broadcast on BBC One at
6.30pm
.
NB:
The BBC HD showing will be delayed until
8.25pm
because BBC HD will be showing live football earlier in the evening.
On BBC One the programme will again be preceded on BBC One by
Total Wipeout
and followed by
Over the Rainbow
.
On ITV 1 Doctor Who is up against
You've Been Framed, Extreme
, a series with Harry Hill featuring the best camcorder and mobile phone calamities, the last showing of which was watched by 5 million viewers on 20th March. The last half is up against a new game show
The Whole 19 Yards
. 19 yards is the distance the contestants have to travel to reach their buzzer - over, under, across and through a gruelling obstacle course. The big hitter in the ITV lineup is the return of
Britain's Got Talent
at 8pm, the series which launched the career of Susan Boyle last year and the programme which is likely to win the night in ratings terms.
BBC Two offers football with
Match of the Day Live
and the game between West Bromwich Albion and Middlesbrough, while Channel 4 has
Channel 4 News
. On Five you can see the 1965 film
Major Dundee
, an offbeat western starring Charlton Heston and Richard Harris.
Doctor Who Confidential
is on BBC Three at 7.15pm, with story writer Mark Gatiss meeting the curator of the Cabinet War Rooms and Churchill Museum to see what the conditions were like at the epicentre of the British war effort. Confidential is repeated on BBC HD at 9.10pm.