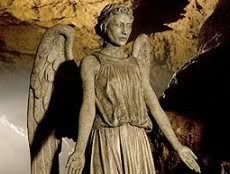 The BBC Press Office has released details for the second part of the Weeping Angels story,
Flesh And Stone
. Episode 5 of the new series will be shown in the UK on Saturday 1st May. The episode summary contains spoilers for part one of the story.
There's no way back, no way up and no way out. Trapped among an army of Weeping Angels, the Doctor and his friends must try to escape through the wreckage of a crashed space liner.

Meanwhile, in the forest vault, the Doctor's companion, Amy Pond, finds herself facing an even more deadly attack.
Meanwhile schedules for the 24th April have been confirmed with the first half of the story,
The Time of Angels
, scheduled for
6.20pm
on BBC One and BBC HD.
The programme is once more scheduled between
Total Wipeout
and
Over The Rainbow
. ITV1 will be offering the
Best of You've Been Framed
with Harry Hill. Viewers not wanting to face a Weeping Angel can face Jeremy Paxman on BBC Two in a special Saturday election edition of Newsnight with Channel 4 offering Channel 4 News. Five will be showing the 1969 film
Butch Cassidy and the Sundance Kid
with Paul Newman and Robert Redford.
Doctor Who Confidentia
l will be at 7.05pm on BBC Three and at 8:25pm on BBC HD and reports on Matt Smith being photographed, scanned and 'rotoscoped' for the new online Doctor Who Adventure Games.