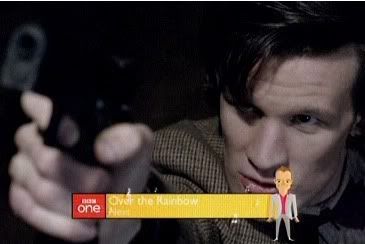 Graham Norton
's second appearance in Doctor Who has provoked a storm of complaints, with many viewers upset at the appearance of a cartoon version of the Irish comic over the cliffhanger of the BBC One showing of
The Time of Angels
.
The appearance seems to be a bid by the BBC to prevent viewers leaving the channel once Doctor Who has aired. Last week nearly two million viewers left BBC One at the end of Victory of The Daleks. The appearance came at the climax of the episode, covering part of Matt Smith's face. Once the credits were rolling another promo for the Dorothy programme was broadcast.
A number of comments on Twitter have complained about the intrusion with critic
Charlie Brooker
tweeting "Why don't the BBC just wipe s*** all over the screen during the final scene of Dr. Who next week? I hope Moffat is bellowing down a phone to someone right now."
Simon Pegg
, who starred in The Long Game, added "Congrats to the BBC for ruining the climax to Doctor Who with a cartoon Graham Norton telling about another xxxxxx talent show."
Graham Norton first made his
presence felt
during the first showing of
Rose
, when crossed wires resulted in a audio feed of his BBC Three programme being transmitted across the first episode of the relaunched Doctor Who series.
Anyone with strong feelings on the appearance can make a complaint via the
BBC website
, or by phone to
0370 010 0222
.