2 entertain have confirmed to DWM the extras for the upcoming DVD release of the Fifth Doctor stories
The King's Demons
and
Planet of Fire
, which will be released in the UK as a Kamelion box-set.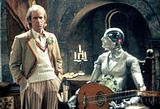 The King's Demons
Commentary with Peter Davison and Isla Blair, who played Isabella, as well as former script editor Eric Saward.
Second commentary with the story's Director Tony Virgo. Part One only
Kamelion - Metal Man : Looking at the history of the short lived companion
Magna Carta: Exploring the great charter.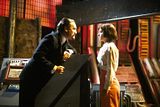 Planet of Fire
Commentary with Peter Davison, Nicola Bryant, Mark Strickson and director Fiona Cumming
The Flames of Sarn: Documentary on the making of the story
Return to the Planet of Fire: Fiona Cumming and Malcolm Thornton revisit Lanzarote
Designs on Sarn: Malcolm Thornton on designing the show
Deleted Scenes
Extended Scenes
Continuity
An alternative version of Planet of Fire will be presented on a second disc, a new version cut by director Fiona Cumming, containing previously unseen material and special effects. It will be in a 16:9 format and the audio will be in 5:1 surround sound.
Extras on the second disc
Calling the Shots: Looking at the story's production
Remembering Anthony Ainley: A look back at the life of the actor
The box set is released in the UK on 14th June.