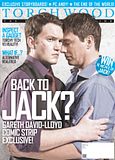 Actor
Gareth David Lloyd
- Ianto Jones from
Torchwood
- has penned a new comic strip to appear in Issue #21 of
Torchwood Magazine
.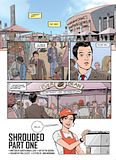 David-Lloyd''s character, Ianto Jones, who died in Captain Jack's arms in the recent Torchwood five-part series
Children of Earth
,' gets a new lease of life and takes centre stage once again in this exclusive comic strip - a move that will delight all fans of the critically acclaimed Doctor Who spin-off.
Talking exclusively to the official Torchwood magazine, David-Lloyd said, "I feel I know this character implicitly. The narrative of this comic focuses predominantly on Ianto, and integrates a number of characters who have been missed by Torchwood''s ardent followers."
The story, titled
Shrouded
, is made up of two parts and is as diverse as it is thrilling. Ianto, who struggles with his tumultuous feelings for Captain Jack from the offset, has his world turned upside-down by the visit of a familiar face from the future. Additionally, he is set a mission that could alter the course of life, as he knows it, forever...
Shrouded
is illustrated by
Pia Guerra
, the critically acclaimed artist of Vertigo Comics' ground-breaking series,
Y: The Last Man
and more recently,
Doctor Who: The Forgotten
. Pia won 'Outstanding comic book artist for 2006' at the Joe Schuster Awards.
This is not the first time an actor has penned a story; back in 2009 Captain Jack himself
John Barrowman
co-wrote
Captain Jack and the Selkie
with sister Carole for Issue #14.
Torchwood Magazine #21 is released in the United Kingdom on 15th April, and in the United States from 11th May.