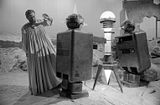 The
BBFC
have cleared extras for the DVD release of the Second Doctor story
The Dominators
.
This 1968 five-part story has been expected ever since an official promo for the story was leaked to YouTube at the end of last year. The story stars
Patrick Troughton
as the Doctor along with
Frazer Hines
as Jamie and
Wendy Padbury
as Zoe.
The story is set on the planet Dulkis, under threat from two alien Dominators, Rago and his subordinate Toba, who have landed in a spaceship. It features the robot Quarks.
Guest stars include
Ronald Allen
, who was well known at the time for his starring role in the soap opera Compact and later for his role in Crossroads and
Brian Cant
who was a staple of Children's television in the sixties and seventies, well known for his work on Play School and Play Away and for his narration on the popular Trumpton, Chigley and Camberwick Green puppet series.
Extras Cleared:
Commentary
Recharge and Equalise - Featurette - 22'55"
Easter Egg - 2'34"
The Dominators - Photo Gallery - 5'46"
Tomorrow's Times - How the media reported on the Second Doctor - 13'12"
No release date for the story has been confirmed but it is likely to be released in July or August.