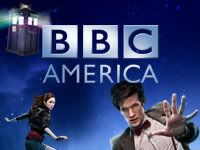 BBC America
has cleared its schedules to bring its viewers nothing but
Doctor Who
in the run-up to the new series launch in the United States on
Saturday April 17
.
Starting at 5am ET, the channel will show the final half of Series 4, starting with
The Doctor's Daughter
and going right through to
Journey's End
. From 1.30pm it moves onto the gap year specials with
The Next Doctor
,
Planet of the Dead
,
The Waters of Mars
and
The End of Time
, taking viewers to the end of the Tenth Doctor's time on the show.
At 8pm it will show
Doctor Who: The Ultimate Guide
, described as a "BBC America original, all-access look inside the universe of the world's biggest, most successful sci-fi television program", before launching
Matt Smith
to the American public with
The Eleventh Hour
at 9pm ET.
After an hour's 'Who' break, the channel will repeat
The Ultimate Guide
and
The Eleventh Hour
at 11pm, with a further repeat for West Coast viewers at 2am.
The Eleventh Hour
gets a further repeat on Sunday April 18 at 5pm, although this will be a cut down version to fit into an hour slot, complete with commercials. A further repeat will be shown on Saturday April 24 at 8pm ET before the US premiere of Episode Two,
The Beast Below
at 9pm.