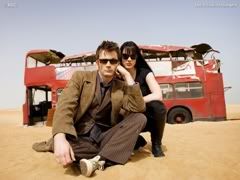 Last year's Easter special,
Planet of the Dead
, made its debut in France earlier this week where it was watched by
423,000
viewers.
The episode, called Planète Morte, was dubbed into French and shown on
France 4
at 8.35pm. David Manet provided the voice of Le Docteur with Maia Barar playing Christina, Monique Clemont playing Capitaine Magambo, Oliver Cuvellier playing Malcolm and Yeves Degen playing Chauffeur de bus.
You can read more about the process of translating the show into French
here
, and you can discuss the translation
here
.