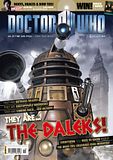 This month's
Doctor Who Magazine
reveals the secrets of casting the Eleventh Doctor
Matt Smith
. In the second part of a in-depth interview, showrunner
Steven Moffat
talks about how the new TARDIS team were chosen; the controversial new costumes; the challenges in creating the new series of Doctor Who; and, after the auditions, why it was clear that Matt Smith had to play the title role.
It was very obvious it was him. It was just a really, really good audition. More than good acting – they were all good actors – he just had the tone of it straight away, the fun of it, the nuttiness of it… the unselfconscious nuttiness of it. Because, let's be honest, Matt is unselfconsciously nutty. That's what he's like.
Also in the magazine, the Watcher returns and proudly presents his definitive guide to the greatest of all the Doctor's many foes, the dreaded Daleks. There is an interview with Louise Page, Doctor Who's costume designer from 2006-2009, about dressing David Tennant, kitting out Kylie Minogue and mixing materials for a menagerie of monsters!
Part three of "The Crimson Hand" sees Majenta finally reunited with her old gang, but what will this mean for her companion, the Doctor? And what terrors lie in store for the universe itself? Plus the Doctor, Tegan and Turlough tackle Tractators as The Fact of Fiction takes a close look at 1984's Frontios.
Neil Harris asks, "Should Doctor Who be sexy?" There is also a catch up with sixties companion Peter Purves who talks about playing companion Steven Taylor both now and then.