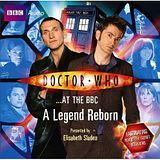 The audio documentary
Doctor Who at the BBC: A Legend Reborn
has been delayed due to problems clearing some of the material on the disc.
The CD was due to be released by BBC Audiobooks on Thursday. However, when compiling the master tape a small amount of material was included for which BBC Audiobooks were unable to obtain clearance. As a result the disc has been recalled and a new master is being produced.
A small number of discs were distributed before the problem was realised, giving the recipients a rare unedited version of the documentary.
The new version will hopefully be released on
11th February
.