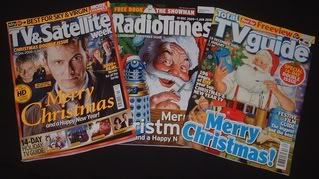 The
previously-reported
cover feature of the Christmas double issue of the
Radio Times
is by no means the only exposure
Doctor Who
is receiving from British TV listings magazines this Christmas. Most prominently, two other such publications have also produced Doctor Who-themed covers for their festive specials.
TV & Satellite Week
has a cover based around "The End of Time", while
Total TV Guide
's cover shows Father Christmas hand-painting TARDIS toys. The
TV Times
also features Doctor Who on its cover in a less prominent role, with an inset image of a Dalek promoting their own "Win a Dalek" competition.
Inside, the Radio Times is filled with Doctor Who-related material and previews. There is an in-depth interview with
David Tennant
, where the actor speaks about his thoughts on moving on to the next phase of his career. "Doctor Who has meant so much to me," he tells the magazine. "It's great to sign off with a flourish." Both parts of "The End of Time" are highlighted in the "Today's Choices" preview section for their respective days, with part one "Pick of the Day" for Christmas Day, described by the magazine's TV editor Alison Graham as a "thoughtful story." In the radio listings section, David Tennant's turns as interviewee (on Sunday 27th December's "Desert Island Discs") and interviewer (of Russell T Davies, on Tuesday 29th December's "Who on Who?") are also picked out as highlights of their respective days.
Both TV & Satellite Week and Total TV Guide also speak to
Tennant
about how he feels to be giving up the role of the Doctor. "Being a celebrity doesn't sit easily with me," he tells the former. "It's part of the job, but if that died down it would be OK." In Total TV Guide, he says of his successor
Matt Smith
that "I think he'll be good for the role because he has an unusual look. He could be either 18 or 40. I hope that doesn't offend him!" Both magazines make "The End of Time" their Christmas Day highlight, with TV & Satellite Week saying that "there's no doubt this year's two-part story will top all previous offerings," while Total TV Guide calls it "a fitting farewell for David Tennant's incarnation of the Time Lord." Both magazines also speak to
Catherine Tate
about her own Christmas special; she tells TV & Satellite Week of her appearance in "The End of Time" that: "It was sad, but I was delighted to be in the episodes. David is a brilliant actor and has brought everything he could to the role."
You can keep track of all major Doctor Who-related programmes on British TV and radio this Christmas with our
broadcast summary
.