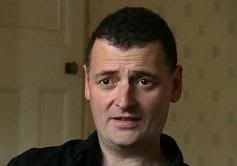 Steven Moffat
, the new lead writer and executive producer of
Doctor Who
, will be interviewed on BBC Radio 3's
Night Waves
programme this coming Tuesday, the 15th of December. The programme is presented by Matthew Sweet, runs from 9.15-10pm, and according to Sweet "He's one of a series of people we're talking to next week who have also recently taken over important cultural appointments."
Sweet is himself a long-term Doctor Who fan, who has written several articles about the programme in the mainstream British press in the past decade, particularly for The Independent newspaper. He has also written professional Doctor Who fiction himself, in the form of audio dramas and short stories for Big Finish Productions.
Night Waves can be heard live worldwide on the internet, and listened to again on the
BBC iPlayer
. You can keep track of all major Doctor Who-related programmes on British TV and radio this Christmas with our
broadcast summary
.