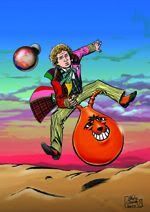 Kangazang!
is a sci-fi comedy written by Welsh author Terry Cooper. First released as a novel, it has since been turned into an audio adventure, starring the vocal talents of former Doctor,
Colin Baker
.
Earthling Jeff Spooner accepts an offer to explore the galaxy with his barber, Ray Scump. The pair are thrown into a non-stop adventure as they embark on a quest to find the fabled Universal Remote – avoiding danger, doom and embarrassing situations as they go.

Aided by two badly-programmed robots and an army of warrior spacehoppers, our heroes duck, dive and try to dodge the biggest threats in the galaxy: Overlord Kelvin of Skragg, the terminally dreary Emo people and Queen Shelley – a bald, cannibalistic Amazon who has a score to settle from way back...

The audio is available as a 3-CD set with bonus DVD. In the run-up to Christmas, purchasers will also receive a free print by artist
Mike Collins
, featuring the Sixth Doctor on a space hopper.
You can find out more about
Kangazang!
and how to order from their
website
.