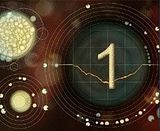 It's that time of year again, and the BBC have once again launched their popular "
Adventure Calendar
".
Day One
sees the updated return of an old game,
"Doctor in the House"
:
... you have to sneakily use as many quotations from the Doctor as possible. Use the guile of a Time Lord to win big points! Download Doctor in the House to find out the rules and find the new quotes for this year's version. And even if you don't fancy playing the game (is that possible?) then why not peruse the quotations and see how many you recognise... can you say what episodes the lines are from?

A new treat will be added to the
calendar
every day.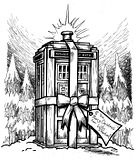 Our own advent celebration takes the form of artwork provided by an artist known to us as "Willy Phantom", author of images for the festive period for a number of years. The artwork will appear daily in the right sidebar of the News Page.
On other fan sites, the
Doctor Who Times
are presenting an
animated advent calendar
, in association with
Blink
;
day one
provides a TARDIS snow globe you can 'shake'.
You can also find advent treats on
WhovianNet
, whose calendar for
today
features four Christmas cards for you to download and print - you can choose from the Doctor, Amy, Rory and River.
Finally, for those who prefer the traditional one on the shelf, there is the BBC/bonbonbuddies "Dalek" advent calendar with milk chocolates, and
Doctor Who Adventures
included a calendar free with Issue 124.