Special Sound
is a new book chronicling the BBC's
Radiophonic Workshop
, written by
Dr Louis Niebur
, Assistant Professor of Musicology at the University of Nevada.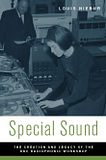 Special Sound traces the fascinating creation and legacy of the BBC's electronic music studio, the Radiophonic Workshop, in the context of other studios in Europe and America. The BBC built a studio to provide its own avant-garde dramatic productions with experimental sounds "neither music nor sound effect." Quickly, however, a popular kind of electronic music emerged in the form of quirky jingles, signature tunes such as Doctor Who, and incidental music for hundreds of programs. These influential sounds and styles, heard by millions of listeners over decades of operation on television and radio, have served as a primary inspiration for the use of electronic instruments in popular music.
Using in-depth research in the studio's archives and papers, this book tells the history of the many engineers, composers, directors, and producers behind the studio to trace the shifting perception towards electronic music in Britain. Combining historical discussion of the people and instruments in the workshop with analysis of specific works, including a large number of Doctor Who incidental scores, Louis Niebur creates a new model for understanding how the Radiophonic Workshop fits into the larger history of electronic music. In particular, he explores the unique relationship between Doctor Who and the Radiophonic Workshop through new interviews with that program's composers.
The book is published by the
Oxford University Press
(USA).