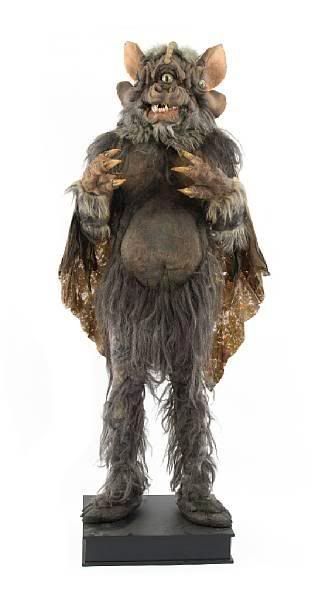 Auctioneer Bonhams has a number of lots related to Doctor Who in its entertainment memorabilia sale on Wednesday 16th December at Knightsbridge in London.
Going under the hammer are the following (estimate in brackets):
Two vampire guard costumes from State of Decay (£150-£200 and £200-£300)
A Tetrap costume (pictured) from Time and the Rani (
£4,000-£4,500)

Thawn's costume from The Power of Kroll labelled with actor Neil McCarthy's name (£650-£750)

Four rehearsal scripts from The Robots of Death (£250-£300) with a short, typewritten letter dated 14th October 1976 indicating that the part of SV7 was originally offered to the actor Hilary Minster.The role was eventually played by Miles Fothergill. Minster appeared in Planet of the Daleks and Genesis of the Daleks.

A Time Lord robe believed to have been used in The Deadly Assassin and Arc of Infinity (£500-£600)

A partial Cyberman costume worn by Ken Barker in Attack of the Cybermen (£2,500-£3,000)

A Shrivenzale foot from The Ribos Operation (£400-£450)


The auction begins at midday.