According to several on-line retail sites, the early part of 2010 will see a bumper number of Doctor Who DVD releases. The schedule looks very crowded and it is possible one of the listed releases has been delayed until later in the year, but retailers have yet to catch up.

According to the sites
January 4th
will see the previously announced Peladon box set on sale, to be followed on
1st Feburary
by a
Myths and Legends
box set. No details are available for this set, but it has long rumoured to consist of the Third Doctor story
The Time Monster
, and the Fourth Doctor stories
Underworld
and
The Horns of Nimon
. The Time Monster was first shown in 1972 and features
Katy Manning
and
Roger Delgado
. Underworld was shown in 1978 and features
Louise Jameson
and
John Leeson
, as well as
Alan Lake
, while Horns of Nimon was shown over the New Year period of 1979/1980 and features
Lalla Ward
and
David Brierly
as K9, with an appearance by
Janet Ellis
.
One week later, the Fourth Doctor story
The Masque of Mandragora
is scheduled for release on
8th February
. This story was first shown in 1976 and features
Elisabeth Sladen
as Sarah Jane Smith.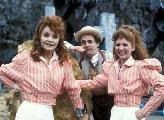 The Seventh Doctor's first story,
Time and the Rani
, is due for release on
1st March
. As well as being
Sylvester McCoy
's first story, this 1987 adventure features
Bonnie Langford
as Mel and
Kate O'Mara
as The Rani.
Finally, fans of the new series will see a release of final episodes of
David Tennant
's reign as the Doctor when The Specials are released on both DVD and BluRay on
11th January
.
All dates are subject to conformation by 2-entertain and are subject to change.