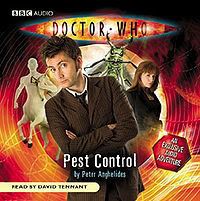 Doctor Who Audiobook
Pest Control
has been nominated as one of the best Audiobooks of 2009 by the website
Completely Novel
.
The story, written by
Peter Anghelides
, was produced by BBC Audio and read by
David Tennant
. It was the first non-televised Doctor Who adventure to feature the companion Donna Noble.
The audiobook is up against titles such as Past Imperfect by Julian Fellowes, A Room with a View by E.M. Forster, Slumdog Millionaire by Vikas Swarup, Dear Fatty by Dawn French and Dreams from my Father by Barack Obama.