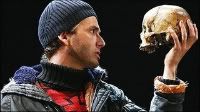 The
BBC
has confirmed that
David Tennant
is to reprise his role as Hamlet for
BBC Two
. Last year he received rave reviews for playing the Dane on stage in the Royal Shakespeare Company production, first at Stratford Upon Avon and later in London.
Tickets for the stage performances sold out in hours and the Guardian hailed Tennant the "best Hamlet in years".
For the television production Tennant will be joined by all of the key members of the stage cast, including the actor Patrick Stewart, who plays Claudius.
BBC Two controller
Janice Hadlow
said the three-hour tv Hamlet was "a wonderful opportunity.. to bring one of the great stage successes of last year to a wider audience".
The
RSC
have revealed that filming will take place on location, while retaining the quality and tone of the stage production. Filming begins in June for broadcast later this year in the UK. Broadcasts in the US and Japan will follow in 2010.
To support the new film of Hamlet there will be an online BBC site, which is being created in collaboration with the RSC. It will feature behind-the-scenes stills and footage, specially shot interviews with the actors talking about their characters and how they approached the play and interviews with director Gregory Doran.
A DVD of the film is planned and will be on sale after the broadcast date.